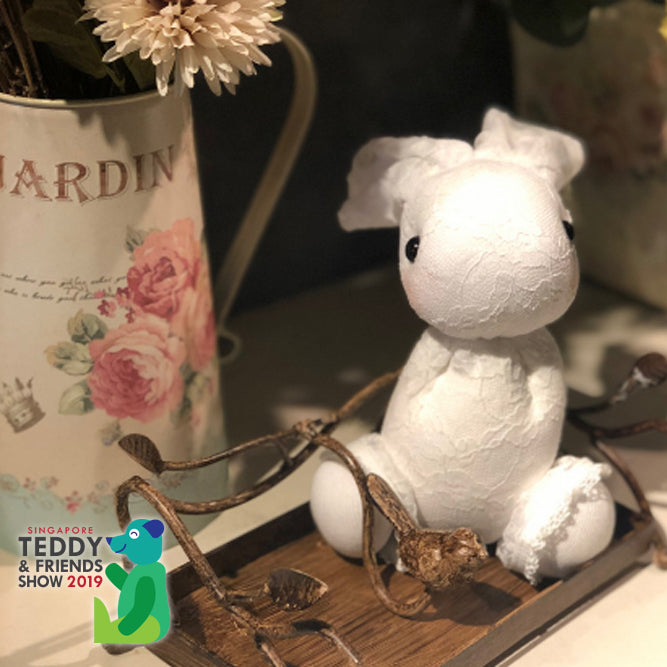 Victorian Lace Bunny Workshop by Socksoftie Studio, 11am - 2pm
Learn to make a unique Victorian Lace Bunny with Socksoftie Studio.
You will learn:
- Basic sewing and stuffing techniques
- Sewing ears and attaching them to the head
- Stuffing the head and body
- Setting the bunny eyes to create personality
- Blushing the cheeks
*Size of bunny: Approximately 15cm tall excluding ears.
*Fees includes all materials.
*Some parts of the materials will be pre-cut and pre-sewn
*No Prior Sewing experience is required.
*Suitable for 16 years old and up.
*Each session is limited to 12 participants.
*Workshop might be cancelled if there is under 2 participants and full course fee will be refunded.
___________________

ARTIST'S PROFILE

Mia Chua loves craft work. She made her first classic teddy bear 20 years ago and started experimenting with various materials and patterns. Two years ago she started using socks to create her softies, and now owns more than 1000 different types of socks in varied colours, designs, and materials.  Her daughter often has to drag her out of any shops that sells socks. Her Socksoftie creation includes the Socksoftie Victorian Lace Bunny, the Socksoftie Little Freckles, the Socksoftie Bruh and Socksoftie Kimono Girl series. 

Mia is a qualified and certified facilitator and courseware developer for adult education. She strives to deliver an enriching and fulfilling experience for her craft workshop participants with her decades of experience in facilitating corporate training! Sewing a good time together is her philosophy! 

Visit Mia's pages to view more of her lovely creations.
Facebook: https://www.facebook.com/socksoftiestudio/
___________________

For enquiries, email to: info@sgteddyandfriendsshow.com
or Wayne at: waynestonbears@yahoo.com.sg

Venue: Our Tampines Hub
1 Tampines Walk, Singapore 528523
Function Room #02-05 (Take Escalator from Lobby B)

Date: Saturday, 16 November 2019
Time: 11am - 6pm

How to Get Here
By MRT (Train):
Alight at Tampines MRT Station (DT32, EW2) (approx. 5 mins walk)

By Bus:
Bus Stop A & B – 3, 10, 20, 22, 23, 31, 34, 39, 65, 67, 292, 293
Bus Stop C – 22, 293

By Car:
The Basement 2 Car Park can be accessed by Entrance A & C, via Tampines Avenue 4 & 5 or via Tampines Walk. The Basement 1 Car Park can be accessed by Entrance B
(See directions outlined below)

For more information about the venue, visit:
https://www.pa.gov.sg/our-network/our-tampines-hub

Terms & Conditions
1. Fees for scheduled classes must be paid fully in advance to secure your booking. Your booking is only confirmed once full payment has been received.

2. Once your booking is confirmed, no refunds or transfers to another class will be given.

3. Payment will be fully forfeited in the event of No Show regardless of unforeseen
circumstances. We recommend that you arrange for someone to attend in your place. Please inform us of the person who will be attending in your place prior to the start of the class.

4. The organiser of the Singapore Teddy & Friends Show and Our Tampines Hub, management and staff or anyone involved with the show will not be held responsible for any mishap due to the incorrect use of equipment/tools or any allergic reaction to the materials used during class. If you have any material allergy, kindly check with us before registering for the class. For any enquiry, please contact Wayne at 9837 9627.

6. The organiser of the Singapore Teddy & Friends Show / Wayneston Studios reserves the copyrights of photography and videos taken in class for future promotional purposes, without prior notice. If you do not wish to be included in such, please email info@sgteddyandfriendsshow.com to inform us prior to the class. Failure to do so will mean that you waive all rights to Wayneston Studios to use photos or videos that we have captured during the class.

Visit our website for more information: http://sgteddyandfriendsshow.com/