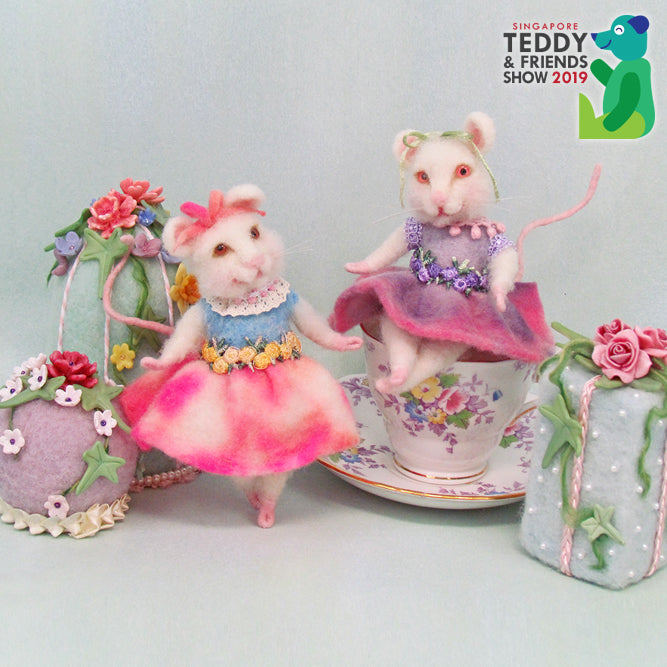 Tea Party Mouse Workshop by OooDolls, 11am - 6pm
Always wondered how to create that unique fuzzy finish in Needle Felting?


You don't need any prior knowledge or experience. Colleen Spies from USA will guide you through this fun process. No stress, no worries, as she will have a few pre-made body parts for you to use and refer to.
At the end of this workshop, you will be able to confidently needle
felt on your own with the knowledge you've gain here.
You will learn :
1. General basics of needle felting.
2. Using the right kind of tools and supplies/ materials which will
eventually save you time and money.
3.
How to incorporate an internal wire armature to create a poseable mouse.
4.
How to create that unique fuzzy finish on your mouse.
5. I will also reveal several secret tips and tricks to accomplish better felting results.
*Size of mouse: Approximately 5.5 inches tall.
*Fee includes a mouse kit, materials and supplies.
*Foam pad will be provide and to be returned after workshop.
*Additional felting needles may be purchased separately.
*No Prior Sewing experience is required.
*Suitable for 12 years old and up.
*Each session is limited to 8 participants.
*Workshop might be cancelled if there is under 2 participants and full course fee will be refunded.
CLOSING DATE: 31 October 2019
___________________

ARTIST'S PROFILE

Colleen Spies is a doll artist from Arizona, USA. She has been making dolls since 2014. Colleen specialises in Needle Felting using barbed needles and wool to create anything imaginable.
Her needle felting techniques allows her to 'sculpt' freely using wool. Her inspiration comes in many forms, an idea, a photograph, beautiful music, or the world around her.
She expands upon these inspirations using her love of art, strong vibrant colours, custom dyed curly locks, and a few decorative accessories.
Colleen is always striving to create innovative looks, explore new ideas, and deliver a one-of-a-kind (OOAK) OOODoll for her one-of-a-kind client.
You can view more of Colleen's creations on her page:
https://www.facebook.com/OooDolls/
___________________

For enquiries, email to: info@sgteddyandfriendsshow.com
or Wayne at: waynestonbears@yahoo.com.sg

Venue: Our Tampines Hub
1 Tampines Walk, Singapore 528523
Function Room #02-05 (Take Escalator from Lobby B)

Date: Saturday, 16 November 2019
Time: 11am - 6pm

How to Get Here
By MRT (Train):
Alight at Tampines MRT Station (DT32, EW2) (approx. 5 mins walk)

By Bus:
Bus Stop A & B – 3, 10, 20, 22, 23, 31, 34, 39, 65, 67, 292, 293
Bus Stop C – 22, 293

By Car:
The Basement 2 Car Park can be accessed by Entrance A & C, via Tampines Avenue 4 & 5 or via Tampines Walk. The Basement 1 Car Park can be accessed by Entrance B
(See directions outlined below)

For more information about the venue, visit:
https://www.pa.gov.sg/our-network/our-tampines-hub

Terms & Conditions
1. Fees for scheduled classes must be paid fully in advance to secure your booking. Your booking is only confirmed once full payment has been received.

2. Once your booking is confirmed, no refunds or transfers to another class will be given.

3. Payment will be fully forfeited in the event of No Show regardless of unforeseen
circumstances. We recommend that you arrange for someone to attend in your place. Please inform us of the person who will be attending in your place prior to the start of the class.

4. The organiser of the Singapore Teddy & Friends Show and Our Tampines Hub, management and staff or anyone involved with the show will not be held responsible for any mishap due to the incorrect use of equipment/tools or any allergic reaction to the materials used during class. If you have any material allergy, kindly check with us before registering for the class. For any enquiry, please contact Wayne at 9837 9627.

6. The organiser of the Singapore Teddy & Friends Show / Wayneston Studios reserves the copyrights of photography and videos taken in class for future promotional purposes, without prior notice. If you do not wish to be included in such, please email info@sgteddyandfriendsshow.com to inform us prior to the class. Failure to do so will mean that you waive all rights to Wayneston Studios to use photos or videos that we have captured during the class.

Visit our website for more information: http://sgteddyandfriendsshow.com/