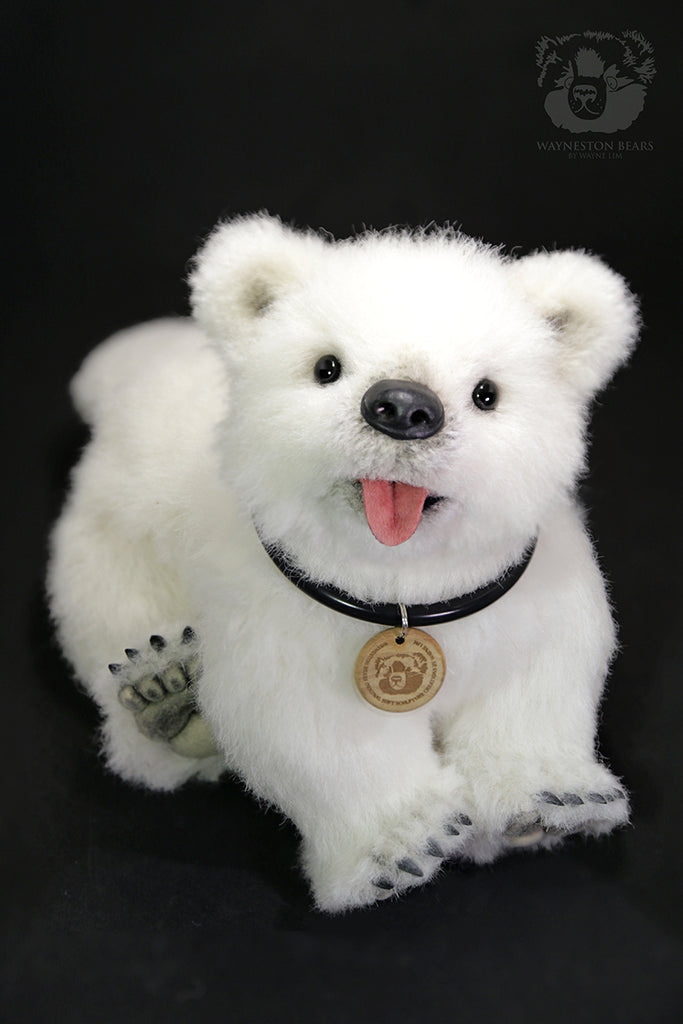 Intermediate (4-Day Workshop) Einstein Polar Cub by Wayneston Bears
*Please email Wayne to make arrangement for Date & Time for the workshop.
This is an Higher Intermediate Workshop for junior bear artists training to improve and discover new techniques to apply on their Teddy Bears.
In the 4-day workshop, we will cover tips on improving your bear-making process, new techniques such as creating a double neck joint, needle sculpting on paw/foot pads, sewing the open mouth and making a polymer clay nose.

Come join us and enjoy dabbling in the Art of Bear Making!

Size of Bear: 9.5" from head to tail.
Material: White German Alpaca Fur
Note: Not suitable for beginners.
- Students are advised to attend Intermediate Maxi Bear Workshop before attempting this workshop.
- We will not be covering basic sewing techniques, students are required to collect the kit to complete sewing before coming to class.

Lesson 1:
- Sewing the pieces, working on the face and neck.
- Stuffing the head's head, needle sculpting and setting the eyes

Lesson 2:
- Introduction to tools
- Stuffing and jointing
- Learn how to close the openings after stuffing
- Creating the open mouth and tongue
- Creating the polymer clay nose and claws 

Lesson 3:
- Stuffing and jointing
- Learn how to close the openings after stuffing
- Sanding and inserting the claws 
- Needle Sculpting the foot pads

Lesson 4:
- Trimming fur
- Adding shadings to enhance the overall appearance of the bear

Fees includes all materials.
For enquiries, email Wayne at: waynestonbears@yahoo.com.sg

How to Get Here
Wayneston Studios is located at The Promenade @ Pelikat, 183 Jalan Pelikat Road B1-123, Singapore 537643

• Please arrive 10mins earlier and have your breakfast/lunch before the workshop.
• If you taking a bus from Kovan MRT, please take a direct bus 113 and alight at 4th bus stop when you see Yuying Secondary School.
• Cross the road and walk straight through the park you will see The Promenade @ Pelikat.

Terms & Conditions
1. Duration of class might be extended if the students are unable to complete their bear.

2. Fees for scheduled classes must be paid fully in advance to secure your booking. Your booking is only confirmed once full payment has been received.

3. Once your booking is confirmed, no refunds or transfers to another class will be given.

4. Payment will be fully forfeited in the event of No Show regardless of unforeseen
circumstances. We recommend that you arrange for someone to attend in your place. Please inform us of the person who will be attending in your place prior to the start of the class.

5. Wayneston Studios will not be held responsible for any mishap due to the incorrect use of equipment/tools in our studio or any allergic reaction to the materials used during class. If you have any material allergy, kindly check with us before registering for the class. For any enquiry, please contact Wayne at 9837 9627.

6. Wayneston Studios reserves the copyrights of photography and videos taken in class for future promotional purposes, without prior notice. If you do not wish to be included in such, please email waynestonbears@yahoo.com.sg to inform us prior to the class. Failure to do so will mean that you waive all rights to Wayneston Studios to use photos or videos that we have captured during the class.