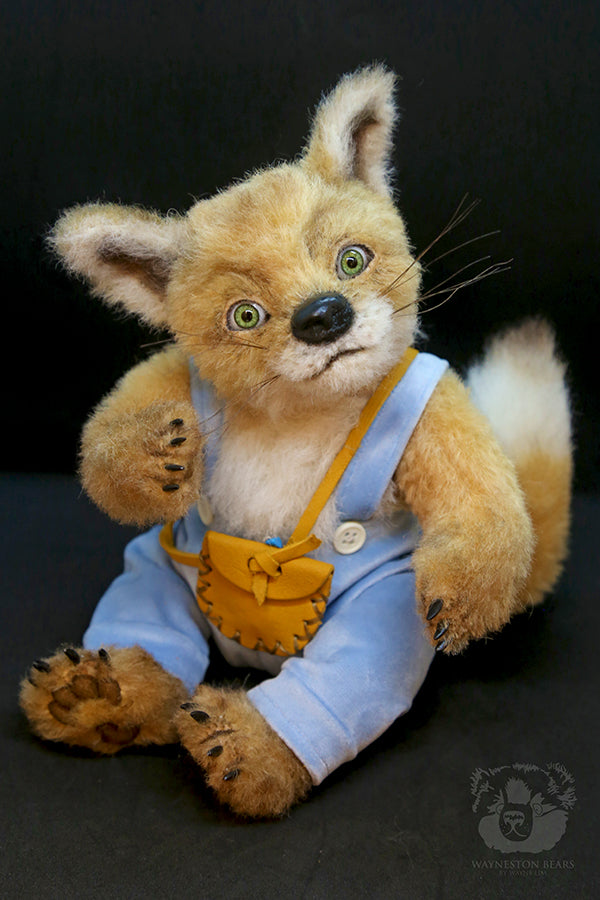 Artist Fox, Reynard by Wayneston Bears
Reynard by Wayneston Bears

Reynard stands at approximately 10 inches tall and is born from Orange Mohair and White Alpaca.

His face is needle felted and each strand of fur is individually rooted onto his felted face. To achieve his expression on his face, needle sculpting and scissor sculpting techniques are applied. Airbrush colour shadings are applied to give him the signature Wayneston Bears look and feel. His nose is needle felted, sealed, hardened and painted.

Reynard views the world with his green glass doll eyes. He is four-way jointed using hardboard disks with other hardware on his arms and legs. He is fully locline armatured on his neck, spine, tail, arms and legs which makes him very posable. You can even pose him on fours.

Reynard is filled with poly-fiber, crushed garnets and much love. 

He has epoxy claws and his ultra suede paw and foot pads are applique and needle sculpted. A blue jumper outfit and leather bag is specially designed for him. A Wayneston Bears suede tag is sewn onto his back.

Reynard is meant primarily for the adult collector. A swing tag with its specifications and a certificate of authenticity will be attached together with him.

All creations come from a smoke free home and will be nicely wrapped with acid free paper and packed into a box. 
Free Shipping Worldwide.