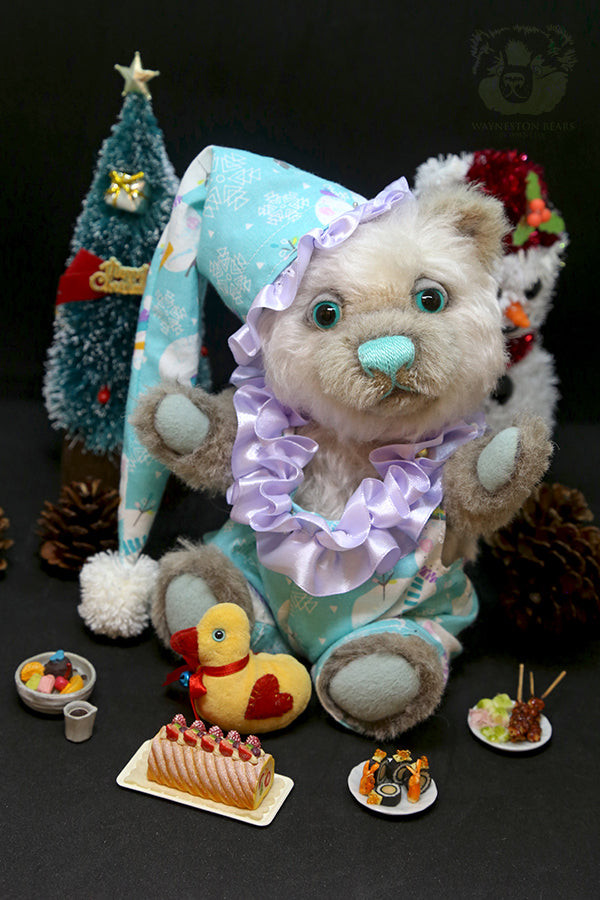 Artist Bear, Willy Sleepy Pants by Wayneston Bears
Willy Sleepy Pants by Wayneston Bears

Willy Sleepy Pants is 8.5 inches tall and is born from grey alpaca and light grey curly mohair. He is created from EFIM Pattern designed by Russian Artist, Anna Filatova.

His face is needle and scissor sculpted, shaded and trimmed, giving him the signature Wayneston Bears look and feel. His nose is embroidered with DMC thread.

Willy's beautiful glass eyes are made from Japan. He has eyelids made from ultra suede. He is five-way jointed using hardboard disks with other hardware on his head, arms and legs.


Willy is filled with poly-fiber, crushed garnets and much love. 
His paw and foot pads are made from mini plush. His outfit and hat is specially designed and created to match his nose, paw and foot pads. A cute little ducky made from miniature fabric comes along with him. A Wayneston Bears suede tag is sewn onto his back.


*Please note that the Christmas tree, snowman, cakes and pastries are not included in this listing. They are props for decorative purpose. Thank you!
All creations come from a smoke free home and will be nicely packed into a box.
Free Shipping Worldwide.