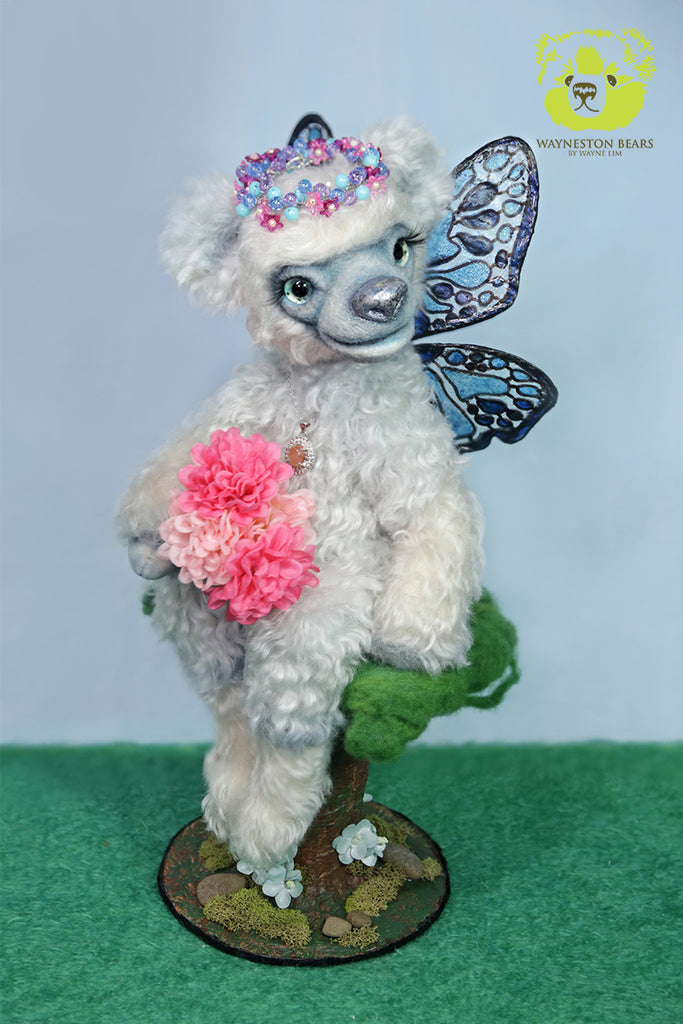 Artist Bear, Lynetta the Fairy by Wayneston Bears
Artist Bear, Lynetta the Fairy by Wayneston Bears

*Lynetta is created from our dear friend, Linda Hearn's Lily Bear Pattern.
Lynetta is designed to have bent kneels hence she is unable to stand.
She is approximately 12 inches height (sitting position), 10 inches height (kneeling position) made from beautiful soft pastel blue and white coloured curled mohair. She is completely hand crafted by me, Wayne Lim from Singapore.

Many hours have been spent to give her an endearing face. Her face is needle felted, airbrushed, shaded and trimmed with razor and scissors to give her a Wayneston Bears Signature style. Her nose is needle felted, harden, painted and sealed. Shadings have been given to her to enhance her look.

Lynetta also has hand painted glass eyes with long eye lashes. Her eyes are painted with turquoise paint with glitter that sparkles. She is 5-way jointed at his limbs using hardboard disks with hardware. Arms and legs have strong wire armature as well, these makes her very poseable.

Foot and paw pads are made of high quality flocked fabrics with air brushed colours. Lynetta has a cute little tail too! Her pair of resin wings are handmade with wires. The wings is magnetic, you can remove or attached it to the back of the bear.

A handmade tiara with beads and flowers is also specially handmade for her. It is removable, secured with applique pins on her head.
She is filled with polyfill, crushed garnets and much love. Lynetta holds a bunch of flowers and wears a rose quartz pendant. A Wayneston Bears suede tag is sewn on her back. 

A special tree base is also designed for her so she can sit comfortably on. The body of the base is made of paper mache, painted with acrylic paints and sealed. It is embellished with pebbles, preserved moss and synthetic flowers. The top of the base is made of different shades of needle felted wool felt.
This bear/creation has been made by me, Wayne Lim from design to completion. This bear/creation is meant for the adult collector and not to be given to a child. A swing tag with its specifications and a certificate of authenticity will be attached together. All creations come from a smoke free home.

Free Shipping Worldwide.